Aligning Histories
Purita Kalaw-Ledesma and Jorge B. Vargas
14 September to 15 October 2019
Second Floor Landing and Third Floor Galleries
UP Vargas Museum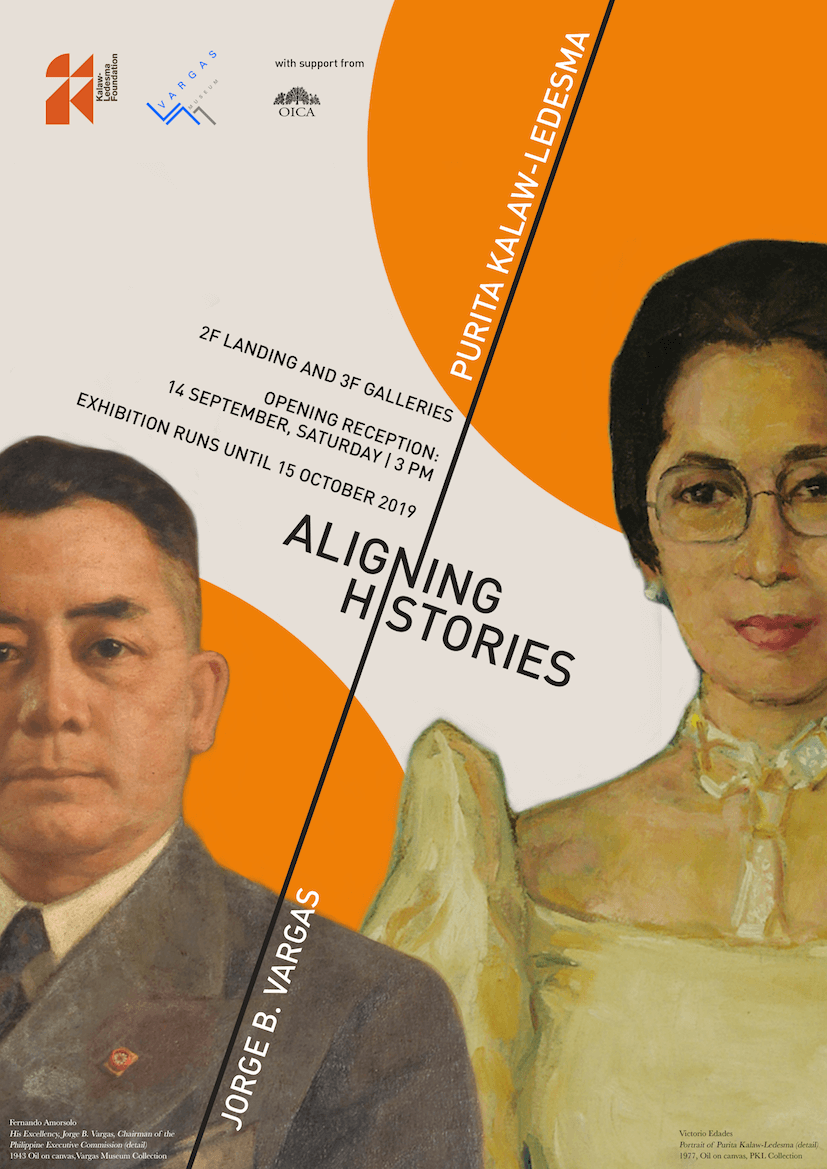 Aligning Histories explores connections between Art Association of the Philippines (AAP) founder Purita Kalaw-Ledesma (1914-2005) and political figure Jorge B. Vargas (1890-1980), both alumni of the University of the Philippines. Having affinities with the Visayas and assuming positions related to land use and real estate, the exhibit probes their connections to land, appraised as province and provenance, property and contested terrain. Kalaw-Ledesma's and Vargas's ties to politics are further elaborated through Manuel L. Quezon. Purita is the daughter of exemplary
journalist, historian, and pioneering director of the National Library Teodoro M. Kalaw, who also served as Chief Adviser of the Philippine Commission on Independence and Executive Secretary. Kalaw was appointed by Quezon when he was President of the Senate, while Vargas was appointed Executive Secretary when Quezon was Commonwealth President. During Quezon's presidency, the women suffrage law was passed, of which Purita's mother, Pura Villanueva-Kalaw, was at the forefront. Another fascinating point of intersection is Purita's and Jorge's involvement in the AAP, an organization of artists established in 1948. Vargas was in the jury in AAP's 1955 Rotary Club Competition in which artists from the perceived conservative coterie staged a walkout in protest of the decision to confer all awards on the so-called modernists. The collecting inclinations of Vargas and Kalaw-Ledesma are likewise touched upon in Aligning Histories. While they were in the thick of building up Filipiniana collections across various stages of post-war reconstruction and nation-building in the Philippines, the sentiments of play and fondness resonated in their object choices and the ways they cherished things over time.
Aligning Histories is an attempt to recast narratives around two biographies of collectors and patrons and to revisit meaningful connections bound by kinship, region, government, art, and culture.
The exhibit is organized by the Vargas Museum and the Kalaw-Ledesma Foundation, Inc., established by Purita Kalaw-Ledesma on 15 September 1978. Aligning Histories is also made possible with the support of the UP Office for Initiative in Culture and the Arts.
Aligning Histories will be on view at the UP Vargas Museum from September 14 to October 15, 2019, Tuesdays to Saturdays, 9am to 5pm. For more information, please contact Vargas Museum at (+632) 981-8500 loc. 4024 (UP trunkline), (+632) 928-1925 (fax) or send an email to [email protected]. You may also check our website at http://vargasmuseum.wordpress.com, Facebook via https://fb.me/vargasmuseum.upd and Twitter via @UPVargasMuseum for updates.