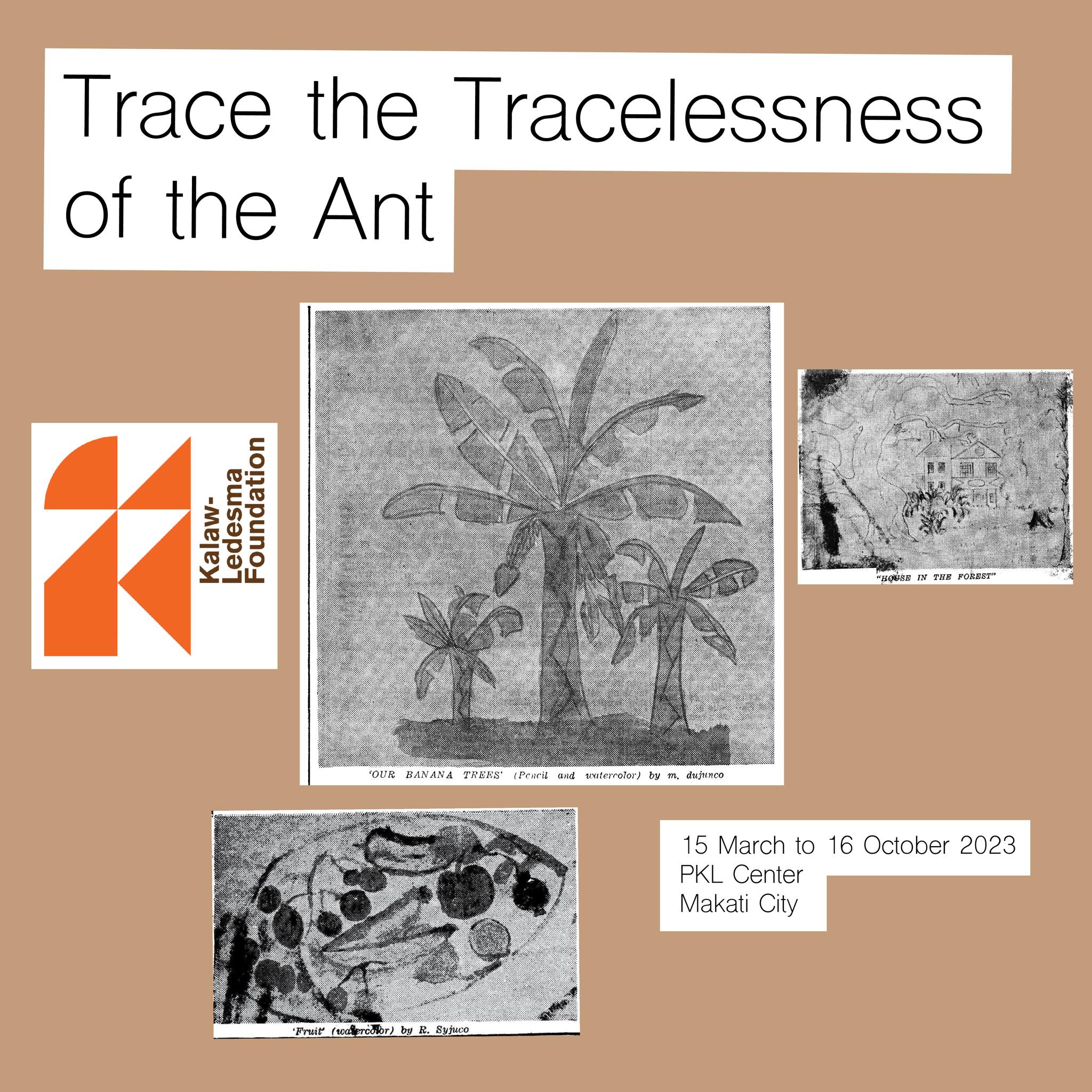 Trace the Tracelessness of the Ant
15 March to 16 October 2023
Purita Kalaw-Ledesma Center
8th Floor – KL Tower
117 Gamboa St. Legaspi Village
Makati City
Kalaw-Ledesma Foundation, Inc. (KLFI) is delighted to re-open its doors and present the exhibition titled Trace the Tracelessness of the Ant. Curated by Mayumi Hirano, it explores the plurality of children's lives through the archives of Purita Kalaw-Ledesma (1914-2005) and the curator's ongoing research on Negros.
The title of the exhibit references one of the pieces in Jose Garcia Villa's Parlement of Giraffes: Poems for Children. The exhibit traces the organic and intuitive points of intersections among independent trajectories of concerns and actions, among them is the regard for children. It explores Kalaw-Ledesma's belief in the potential of children through a selection of scrapbooks, artworks, and books from the KLFI Collection, as well as collected materials from international artists who did work on children's hunger in the island of Negros in the 1980s and 1990s. Through these materials, the exhibition hopes to find constellations of collectivity and shared responsibility.
The featured works in the exhibition include drawings by Negros-based artist Nunelucio Alvarado (b. 1950) and a sketchbook by Japanese picture book artist Seizo Tashima (b. 1940) who visited Negros in the 1980s.
Trace the Tracelessness of the Ant will be on view at the PKL Center starting from 15 March 2023, Mondays to Fridays, 9am to 4pm. The exhibit is free and open to the public, but would require visitors to register at https://tinyurl.com/KLFI-RegisterTraceExhibit2023.
For questions/clarifications, please email [email protected]. You may also visit the Facebook and Instagram accounts of KLFI for more information:
https://facebook.com/kalawledesmafoundation
https://www.instagram.com/official_klfi.ph
Images from PKL Archives, from Art in the Grades column in The Manila Chronicle. (Center) "Our Banana Trees" by m. dujunco, Vol. 09. (Right) "House in the Forest" by R. Domingo, Vol. 08. (Bottom) "Fruit" by R. Syjuco, Vol. 08.